Electronic dynamic testing machine
Product Detail
PARAMETER
Product Tags
Microcomputer-controlled electronic dynamic fatigue testing machine is mainly used for dynamic and static mechanical performance testing of metal, non-metal, composite materials and structural adhesives, lithium battery core poles and other products.
Enpuda microcomputer-controlled electronic dynamic fatigue testing machine is flexible and convenient to operate, and the electric movable beam rises and falls.
It adopts advanced electric cylinder drive technology to load, high-precision dynamic load sensor and high-resolution magnetostrictive displacement sensor to measure the force value and displacement of the sample.
The all-digital measurement and control system realizes closed-loop control of force, displacement, and deformation. The test software adopts English operation interface, powerful data processing capabilities, and automatic storage, display and printing of test conditions and test results.
The testing machine is an ideal cost-effective fatigue testing system for scientific research institutes, metallurgical construction, national defense industry, colleges and universities, aerospace, rail transit and other industries.
Customized service / Test standard
We not only provide standardized machines, but also customize machines and LOGO according to customer requirements. Please tell us your requirements and we will try our best to meet your needs.
Please provide the test standard you need to our company, our company will help you customize the test machine that meets the test standard you need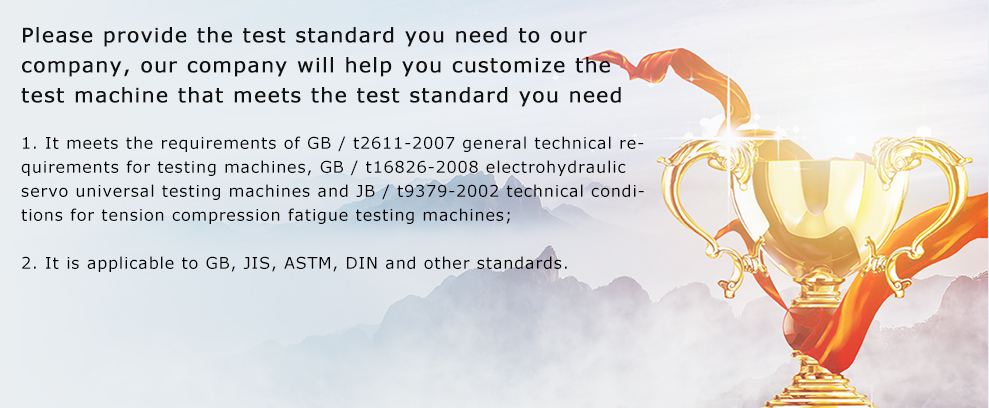 1. The electronic servo and DDR torque motor drive technology has the advantages of high efficiency, long service life, low noise and maintenance free;
2. The testing machine adopts "horizontal floor structure" with good dynamic stability, and the upper and lower parts of the test bench are convenient, random, safe and reliable;
3. The parameters required by different tests, such as torque, frequency and angle, can be set and displayed on the computer screen, and the process of the test can also be called and inquired at any time;
4. User interface: the test software can be operated under Windows system, and the microcomputer system can complete the test setting, working state control, data acquisition and operation processing. Simple and reliable human-computer interaction interface and data processing interface can complete different experimental requirements selected by users, display and print test results;
5. Open data structure: both result parameters and process data can be called randomly by users, which is very convenient for scientific research and teaching;
6. A variety of protection measures: sample damage, tooling fracture and equipment failure, automatic stop test and alarm, in the automatic control test process, the tester has overload, over angle, over temperature, electronic limit protection, over-current, over-voltage and other power links of various electrical protection, software overload, mechanical mandatory safety limit protection, etc.
Comply with GB/T 9370-1999 "technical conditions of torsion testing machine", GB/T10128-2007 "torsion test method of metal at room temperature" and JJG 269-2006 "verification regulation of torque testing machine" and other standards.
Comply with GB, JIS, ASTM, DIN and other standards.
---
Previous:
Electronic Torsion Testing Machine
---
Model of testing machine

EH-6103

EH-6303

EH-6104

EH-6204

EH-6504

EH-6503

EH-6304

Maximum dynamic load (kN)

±1000N

±3000N

±10KN

±20KN

±50KN

±5000N

±30KN

Test frequency(Hz)

0.01~20Hz

Fatigue life times

0~108Arbitrary setting

Actuator stroke

±50、±75、±100、±150 and custom made

Test loading waveform

Sine wave, triangle wave, square wave, oblique wave, trapezoidal wave, combined custom waveform,etc

Measurement accuracy

Load

Better than indicated value ±1%、±0.5%(static state);Better than indicated value ±2%(dynamic)

deformation

Better than indicated value ±1%、±0.5%(static state);Better than indicated value ±2%(dynamic)

displacement

Better than indicated value ±1%、±0.5%

Measurement range of test parameters

1~100%FS (full scale),It can be extended to 0.4~100%FS

Test space (mm)

400mm

500mm

Test width (mm)

≦500mm(Without fixture)

≦600mm(Without fixture)

Motor power

1.0kW

2.0kW

5.0kW

Remarks: The company reserves the right to upgrade the instrument without any notice after the update, please ask for details when consulting.
Write your message here and send it to us