Electronic universal testing machine
Product Detail
PARAMETER
Product Tags
The computer-controlled electronic universal testing machine is mainly used to test the mechanical properties of metal, non-metal, composite materials and products in tension, compression, bending, shearing, tearing, and peeling.
Enpuda microcomputer-controlled electronic universal testing machine is flexible and convenient to operate, using wireless remote control for operation.
The Panasonic all-digital AC servo controller is used to control the high-precision, high-response frequency Panasonic AC servo motor, which drives the arc toothed synchronous belt deceleration system, and the synchronous toothed belt drives the screw to rotate and load to ensure the high efficiency of the transmission system. Low noise, stable transmission, high transmission accuracy, long working life, and guaranteed speed accuracy within ±0.5%.
Universal testing machines are widely used in rail transit, aerospace, ship and ocean engineering, rubber and plastics, automotive engineering, petrochemicals, concrete bricks, leather textiles, ceramic building materials and other industries.
The electronic universal testing machine is a commonly used testing equipment for enterprises, scientific research units, colleges and universities, engineering quality supervision stations and other departments.
Customized service / Test standard
We not only provide standardized machines, but also customize machines and LOGO according to customer requirements. Please tell us your requirements and we will try our best to meet your needs.
Please provide the test standard you need to our company, our company will help you customize the test machine that meets the test standard you need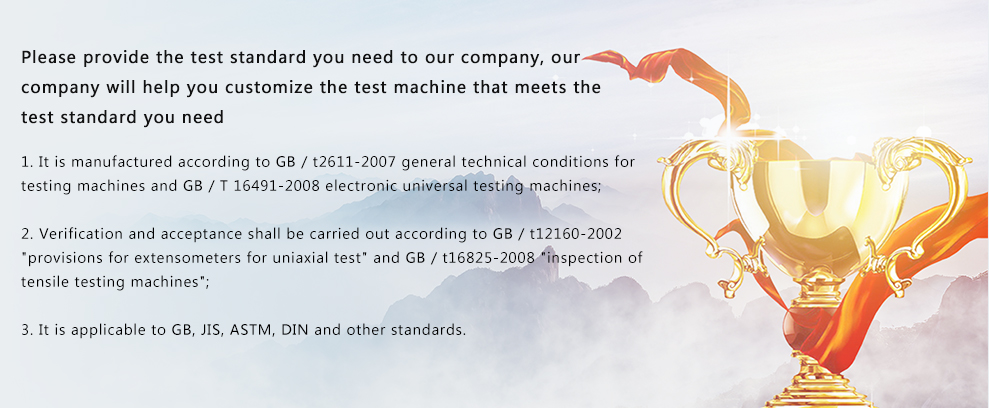 1. Exquisite and elegant design: our company has always attached great importance to the appearance of products and developed many products comparable to foreign models. Some of the testing machines have been protected by national appearance patents;
2. Arc tooth synchronous belt deceleration system: it has the advantages of high efficiency, long life, low noise and maintenance free;
3. High precision ball screw loading: stable loading, long service life, good long-term stability and energy saving;
4. It adopts the new generation DSC chip system newly developed by the company: it is the most advanced controller with the highest integration degree and the highest control speed in China;
5. User operation interface: simple and reliable human-computer interaction interface and data processing interface to complete different experimental requirements selected by users;
6. Open data structure: both result parameters and process data can be called randomly by users, which is very convenient for scientific research and teaching;
7. User self editing scheme and report function: it can edit special scheme according to all standards at home and abroad, which is convenient for real-time calling; data can be imported into EXCEL form to facilitate user's post-processing;
8. A variety of protection measures: such as electronic limit protection, over-current, over-voltage and other power links of electrical protection, software overload, over displacement protection, mechanical mandatory safety limit protection, etc.
1. It is manufactured according to GB / t2611-2007 general technical conditions for testing machines and GB / T 16491-2008 electronic universal testing machines;
2. Verification and acceptance shall be carried out according to GB / t12160-2002 "provisions for extensometers for uniaxial test" and GB / t16825-2008 "inspection of tensile testing machines";
3. It is applicable to GB, JIS, ASTM, DIN and other standards.
---
Previous:
Electronic dynamic testing machine
Next:
High-quality electro-hydraulic servo 6-DOF motion platform for car driving simulatorseismic simulator, etc.
---
Model of testing machine

EH-5104

EH-5204

EH-5504

EH-5105

EH-5205

EH-5505

5304

5305

5605

Maximum load(kN)

10 or less

20

50

100

200

500

30

300

600

Load accuracy

Better than indicated value ±1%、±0.5%

Displacement and deformation accuracy

Better than indicated value ±1%、±0.5%

Resolution of test parameters

The load and deformation are not graded and the resolution remains unchanged ±1/350000FS (full scale)

Test space(mm)

800

800

800

700

500

500

Effective width(mm)

400

400

560

560

600

650

Motor power (Kw)

0.75

0.75

1

1.5

3

5

Dimensions(mm)

950x460x2050

970x480x2050

1100x600x2050

1080x660x2200

1100x750x2200

1260x700x2550

Main engine weight(Kg)

200

320

500

850

1500

2500

Remarks: The company reserves the right to upgrade the instrument without any notice after the update, please ask for details when consulting.
Write your message here and send it to us