Electro Hydraulic servo structure dynamic fatigue testing machine
Product Detail
PARAMETER
Product Tags
The microcomputer-controlled electro-hydraulic servo structure dynamic fatigue testing machine is mainly used to test the dynamic and static mechanical properties of metal, non-metallic materials, composite materials, steel rails and other products.
Enpuda fatigue microcomputer-controlled electro-hydraulic servo fatigue testing machine is flexible and convenient to operate. The moving beam rises, falls, locks, and sample clamping is completed by button operations.
It adopts advanced hydraulic servo drive technology to load, high-precision dynamic load sensor and high-resolution magnetostrictive displacement sensor to measure the force value and displacement of the sample.
The all-digital measurement and control system realizes closed-loop control of force, displacement, and deformation. The test software adopts English operation interface, powerful data processing capabilities, and automatic storage, display and printing of test conditions and test results.
The testing machine is an ideal cost-effective fatigue testing system for scientific research institutes, metallurgical construction, national defense industry, colleges and universities, aerospace, rail transit and other industries.
Customized service / Test standard
We not only provide standardized machines, but also customize machines and LOGO according to customer requirements. Please tell us your requirements and we will try our best to meet your needs.
Please provide the test standard you need to our company, our company will help you customize the test machine that meets the test standard you need
1. It meets the requirements of GB / t2611-2007 general technical requirements for testing machines, GB / t16826-2008 electrohydraulic servo universal testing machines and JB / t9379-2002 technical conditions for tension compression fatigue testing machines;
2. Meet GB / t3075-2008 metal axial fatigue test method, GB / t228-2010 metallic materials tensile test method at room temperature, etc;
3. It is applicable to GB, JIS, ASTM, DIN and other standards.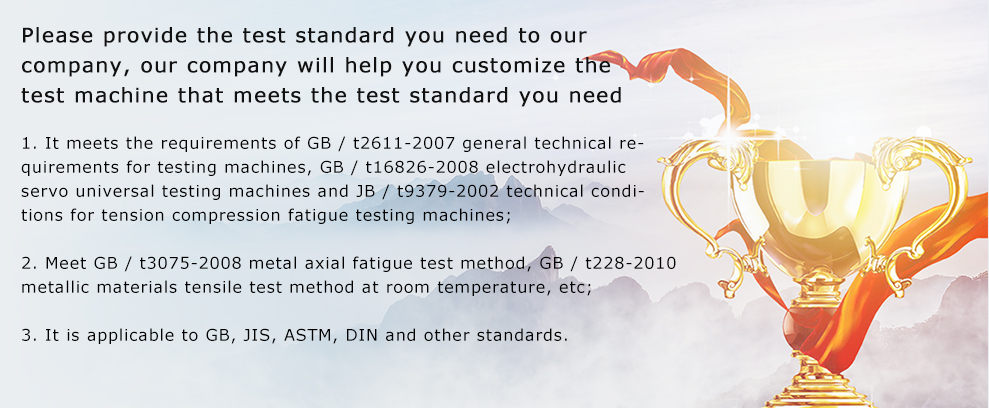 1. Test machine host: column, base, beam constitute a closed frame structure, frame stiffness, no reverse clearance, good stability. The outer surface of the column is treated with hard chromium plating. The servo actuator (oil cylinder) is installed on the upper part, and the piston design of cylinder with two-way action is adopted. The sample clamping adjustment is convenient and flexible.
2. Key components: adopt international famous brands such as MOOG servo valve of the United States, DOLI controller of Germany, Buer oil pump of Japan, Shiquan sensor of USA, displacement sensor of MTS company of USA, etc.
3. Hydraulic servo pump station: adopt no leakage mute technology, stable pressure output, no fluctuation, low noise, good heat dissipation effect, high filtering accuracy, automatic protection of pressure overload and oil temperature over temperature.
4. Control mode: force, displacement and deformation PID closed-loop control, and can realize smooth and undisturbed switching of any control mode.
5. Test software: it is suitable for operation under Windows test platform. With the control system, it can control the test system to complete all kinds of dynamic and static mechanical property tests, such as metal tensile, compression, bending, low cycle and metal fracture mechanical tests, and independently complete various test management, data storage, test report printing and other functions.
6. Test waveform: sine wave, triangle wave, square wave, random wave, sweep frequency wave, combined waveform, etc.
7. Protection function: it has alarm and shutdown functions such as blockage of oil circuit, over temperature, low liquid level, overload of hydraulic system, overheat of motor, preset fatigue times and fracture of test piece.
---
Previous:
Slow strain rate stress corrosion tester
Next:
---
Model of testing machine

EH-9204S(9304S)

EH-9504S

EH-9105S

EH-9205S

EH-9505S

(9255S)

Maximum dynamic load(kN)

±20(±30)

±50

±100

±200(±250)

±500

Test frequency(Hz)

Low cycle fatigue 0.01~20,High cycle fatigue  0.01~50,custom made  0.01~100

Actuator stroke(mm)

±50、±75、±100、±150 and custom made

Test loading waveform

Sine wave, triangle wave, square wave, ramp wave, trapezoid wave, combination custom waveform, etc.

Measurement accuracy

Load

Better than the indicated value±1%、±0.5%(static state);Better than the indicated value±2%(dynamic)

deformation)

Better than the indicated value±1%、±0.5%(static state);Better than the indicated value±2%(dynamic)

displacement

Better than the indicated value±1%、±0.5%

Measurement range of test parameters

1~100%FS(Full scale),It can be extended to0.4~100%FS

2~100%FS(Full scale)

Test space(mm)

50~580(Scalable customization)

50~850(Scalable customization)

Test width(mm)

500(Scalable customization)

600(Scalable customization)

Oil source allocation(21Mpa Motor power)

20L/min(7.50kW),40L/min(15.0kW),60L/min(22.0 kW),100L/min(37.0kW)The displacement oil source is combined according to the requirements, and the pressure can be selected 14、21、25Mpa

Remarks: The company reserves the right to upgrade the instrument without any notice after the update, please ask for details when consulting.
Write your message here and send it to us