Slow strain rate stress corrosion tester
Product Detail
PARAMETER
Product Tags
Slow strain rate (SSRT) stress corrosion (SCC) testing machine is mainly used to simulate the tensile, compression, bending, creep of metal, non-metal, composite materials and their products under different environmental media conditions. Variation test to determine stress corrosion properties of materials under slow rate conditions.
The Panasonic full digital AC servo controller is used to control the Panasonic AC servo motor with high precision and high response frequency to realize the two-stage deceleration of the arc toothed synchronous belt deceleration system and the deceleration system of the reducer, so as to ensure that the stretching speed of the slow strain rate test can be Stepless adjustment between 1×10-1~1×10-6mm/S.
Customized service / Test standard
We not only provide standardized machines, but also customize machines and LOGO according to customer requirements. Please tell us your requirements and we will try our best to meet your needs.
Please provide the test standard you need to our company, our company will help you customize the test machine that meets the test standard you need
1. It is manufactured according to GB / t2611-2007 general technical conditions for testing machines and GB / T 16491-2008 electronic universal testing machines;
2. Verification and acceptance shall be carried out according to GB / t12160-2002 "provisions for extensometers for uniaxial test" and GB / t16825-2008 "inspection of tensile testing machines";
3. It is applicable to GB, JIS, ASTM, DIN and other standards.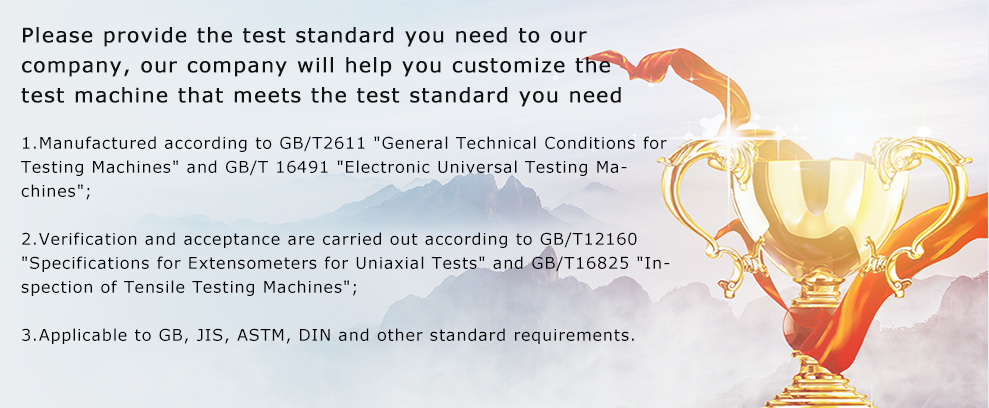 1. Exquisite and elegant design: our company has always attached great importance to the appearance of products and developed many products comparable to foreign models. Some of the testing machines have been protected by national appearance patents;
2. Arc tooth synchronous belt deceleration system: it has the advantages of high efficiency, long life, low noise and maintenance free;
3. High precision ball screw loading: stable loading, long service life, good long-term stability and energy saving;
4. A variety of protection measures: such as electronic limit protection, overcurrent, overvoltage and other electrical protections in power links;
5. Measurement and control system: adopt pure digital phase-locked loop pulse control mode, without falling and misalignment;
6. Simple, reliable and powerful user interface.
7. The open data structure allows users to randomly call both the result parameters and the process data, which is very convenient for scientific research and teaching.
8. User self-editing report function. Data can be easily imported into EXCEL form, which is convenient for users to process later.
---
---
Model of testing machine

EH-5504F

Testing machine force value measurement accuracy

Level 0.5

Test force measurement accuracy

Within ±0.5% of the indicated value

Test force measurement range

200N~50KN

Test force indication resolution

1/350000 of the maximum test force, no division and the same resolution in the whole process

Deformation measurement range

 0.4%-100%FS

Speed range(mm/min)

0.001~500 (Scalable to 1000)

Resolution of test parameters

The load and deformation are not graded and the resolution remains unchanged ±1/350000FS (full scale)

Test space(mm)

800

Effective width(mm)

560

Power Supply 

220V±10%

Overall dimensions of main engine (length× width× height)

1110×600×2220 mm (reference size)

Main engine weight(Kg)

about 600 kg

Tensile speed range of slow strain rate test: stepless adjustment between 1~1×10-6mm/s (achieved by two-stage deceleration)

Remarks: The company reserves the right to upgrade the instrument without any notice after the update, please ask for details when consulting.
Write your message here and send it to us